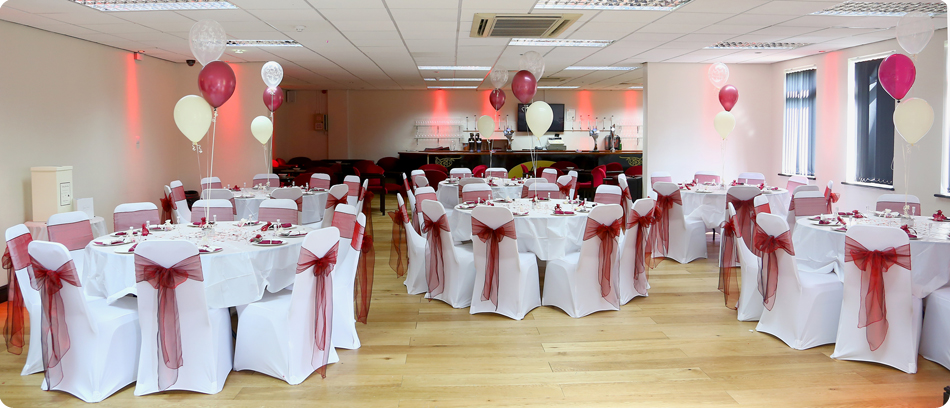 The Martin Grove Suite – Perfect for up to 200 guests
Martin Grove Conference and Banqueting suite
About the Martin Grove Suite
The Martin Grove Conference and Banqueting suite is the ideal place to hold any occasion.
In 2013 the suite underwent a complete refurbishment to improve and replace many features such as:
– New flooring
– New neutral decor
– New bar in a new position
– Mood lighting
The Martin Grove suite is now ready for your next occasion accommodating up to 200 guests.
The room is sectioned into 3 main areas – the bar, a main seating area and  the dancefloor – perfect if some family would like to keep away from the music to chat!
Seating is no issue as the bar area also includes extended seating to the main seating area via the use of our lounge furniture including our comfortable 2 seater leather sofas and red velvet bar furniture all of which can be removed upon request.
Pictures
Click here for our full gallery
Advtantages
The Martin Grove Suite has many advantages all included within the price of your booking, these include:
– In-built bar
– In-built black and white tiled dancefloor
– Giant 60″ TV
– Air conditioning
– WiFi
– Plain and simple elegant decor
– In-built multi coloured lighting to match your chosen colour
– 2 choices of main lighting – Either bright normal lighting or dimmed spot lights
– Various setup options
– 3 main linked areas – dancefloor, seating and bar area
Mood lighting
A choice of  different mood lighting colours can be chosen to add a whole new dimension to your occasion.
Our lighting can be colour co-ordinated to suit your own colour scheme using our in-house LED downlighters that are discretely hidden in the ceiling of the suite, it's the perfect way to personalise your event and give it a splash of colour to complement the mood and give your guests that WOW factor!
Simply let us know your choice of colour or colours and we'll find the colours to suit, the Martin Grove Suite can also support continuous colour changing or split colours!
Catering & Extras
A fully stocked bar is already permanently fitted in this room so guests can enjoy our wide selection of popular drink's including alcoholic & non-alcoholic beverages.
We have a selection of house wines, but if you'd require something a little more to your personal taste just let us know at your pre-wedding consultation with our wedding planner.
The option to supply your own wine & toast drinks is also available*
* Corkage fees apply
Our fantastic on site catering team are available to meet all of your catering needs at affordable prices.
Alternatively, a catering waiver can be paid to bring in your own food.
Our flexible food and drink arrangements are achievable for all budgets which can include:
– Full 3 Course Meals –
– Tailored buffets per person –
– Finger buffets  –
– Hot & Cold Food –
– Drinks on arrival –
– Waiting Service –
– Champagne, Wine & Bucks Fizz –